EVENTS
We are pleased to announce our event schedule for 2017. Check our web site at www.smokestackhobby.com for the latest information.
January 21st – How to Service and Care for your O Scale Locomotive – Noon-1 presented by Joe Evans
January 21st – Introduction to Model Railroading – 2-3 p.m. presented by Hocking Valley Model Railroad Club
January 28th – Airbrushing & Weathering: Noon – 1 p.m. presented by Damian Murphy
February 4th – Intro to Radio Controlled Flying – Noon – 1 p.m. Presented by Butch Paugh
February 11th – Scenery Techniques: Noon-1 p.m. presented by The Soggy Bottom & Deep Cut RR Club
February 11th – Power Supplies for Model Railroading: 2-3 p.m. presented by Hocking Valley Model Railroad Club
March 4th – Figure Painting: Noon – 1 p.m. presented by Damian Murphy
March 25th Lancaster Train Show Fairfield County Fairgrounds (details to follow)
March 25th 42nd annual Fairfield Ohio Radio Kontrol Society's Model Airplane Show at the Fairfield County Fairgrounds
June 25th 3rd Annual R/C Day at the Fairgrounds
NEW ARRIVALS
Italeri #3709 VW 1303S Beetle Cabriolet (or #3708 hardtop)

Italeri #7403 German Military Motorcycle w/sidecar

Tamiya #61059 Lockheed F-117A Nighwawk

Tamiya #12053 Team Lotus Type 49B

ARRMA 1/8 OUTCAST 6S Stunt Truck 4WD RTR
Features:
Chassis: Alu
minum construction, black in color, 0.12″ (3mm) thick
plastic side guards
Brushless Motor: Arrma BLX 2050Kv, four pole equipped for smooth and
consistent power delivery, gold bullet connectors
Electronic Speed Control: Arrma BLX185 150A waterproof, 6S LiPo ready
two stage LiPo cutoff, cooling fan, XT-90 connector, 6V BEC
Radio: Tactic TTX300 2.4GHz 3-channel
and TR326 3-Channel SLT HV receiver
Yuneec E-Go2
Meet
the newest member of the E-GO series. Featuring a 12mm, eight layered composite wood deck to make it flexible and durable, two riding and speed modes to accomodate any rider, and a 400 watt motor, the E-GO2 possesses all of the qualities you're looking for in an electric longboard.
Accelerate or apply the brakes easily with the slide of a knob on the E-GO's Bluetooth remote controller. Instead of having to focus on pushing, simiply enjoy your ride.
At just 13.9 lbs, the E-GO2 is lightweight and portable, which is convenient for your life on the go.
The new kicktail shape ensures you have more control and better steering of your E-GO2 electric longboard.
RISE Vusion Extreme FPV Racing Quad Race Pack RTF 200mW
Motors: Four 2280Kv brushless
Electronic Speed Controls: Four high frequency with One Shot 125
programming
Construction: Injection molded plastic with easily replaceable arms,
LED lights on each arm
Camera: 600TVL resolution, compatible with micro memory cards up to
32GB
Video Transmitter: 200mW 5.8GHz VTX 8-channel allows pilots to view
their flights in real time, eight specially-reserved Raceband
channels optimized for pro FPV racing, omni-directional cloverleaf
antenna
Monitor: Tactic 5.8GHz FPV-RM2 40-channel with 4.3″ LCD
and Omni Pro omni-directional antenna
Goggles: Tactic FPV-G1
Radio: RISE J2000 2.4GHz 6-channel with smartphone holder
Battery: 3S 11.1V 1500mAh 25C
Battery Charger: 2-3S AC LiPo balancing charger
Propellers: Plastic, four 5×4.5″ bullnose shape installed, with four
spare propellers
Broadway Limited #6110 Cryogenic Tank Car

Broadway Limited Steel Box Car #1760 and 1762

Bachmann Track Cleaning Car #16316 # 16317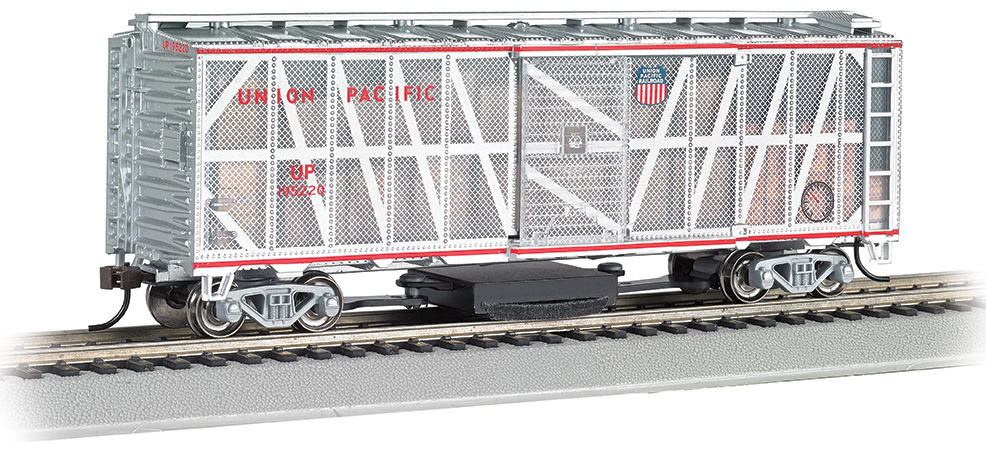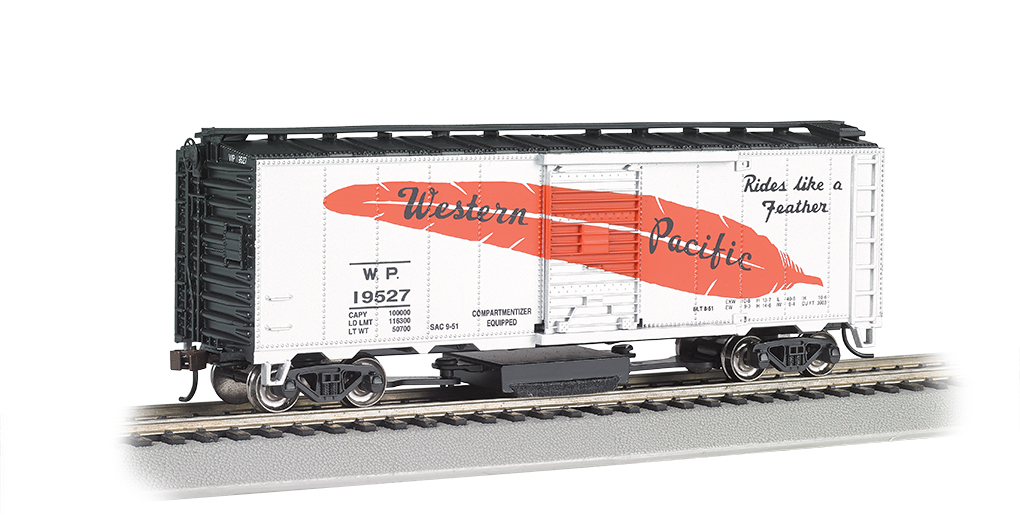 MTH Premier Reading Camelback #20-3664-1

Real Tender Coal Load
Handpainted Engineer and Fireman Figures
Remote-Controlled Proto-Coupler
Prototypical Rule 17 Lighting
Constant Voltage LED Headlight
Operating LED Firebox Glow
Lighted LED Cab Interior
Operating Tender LED Back-up Light
Synchronized Puffing ProtoSmoke System
Onboard DCC/DCS Decoder
Proto-Sound 3.0 With The Digital Command System Featuring Quillable Whistle With Passenger Station Proto-Effects
Operates On O-31 Curves
CABOOSE
For those of you who haven't yet seen the Soggy Bottom and Deep Cut RR layout, now is the time to make plans to stop in. This fantastic model railroad will only be on display for a few more days. Then it gets removed to make room for an even larger HO scale layout to be built by the Hocking Valley Model Railroad Club. This large 30×15 ft. layout will become a permanent fixture in the shop. We will be sure to document its construction in the Photo Gallery of our web site so those of you unable to visit us on a regular occasion can still see it being built.
We are also about to begin construction of out\r indoor rock crawling pit "Box of Rocks". This will be located in the area between our Service Counter and the bathrooms. Again, we will document construction in our web site photo gallery. Any donation of rocks would also be appreciated 🙂
Finally, we have solidified plans for the first Lancaster Train and Plastic Model Swap Meet. It will be held at the Fairfield County Fairgrounds in the Ed Sands Bldg. on Saturday, March 25th from 8:30 a.m. – 3:00 p.m. We hope to have a number of operating train layouts available for viewing. Dealer tables will be $10. Admission is only $3, or if you wish to also attend the FORKS R/C Model Show next door, then a combo ticket is only $5. Women, children, and military veterans with ID get in free. And parking is free! Call 740-653-0404 for table reservations.